Last time I was just a few hours late, but I hope I'll manage to squeeze in this time and link up to the mid-winter check in for: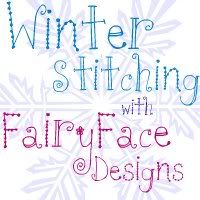 Let me show you how it has gone so far:
1. Finish the Australian quilt.
-

done
2. Sew my first ever skirt. -
done
3. Make lots of 241 totes as gifts my friends. -
Not done, I made some phone cozies instead, although I hope to be able to sew the bags at some point, possibly in summer.
4. Make mugrug for Quokka Quilts Mug Rugs of the world - if I manage to think up something with a Polish theme. -
Complete fail here, no specific idea comes to my mind, so I'm afraid I'll just have to give up.
5. Prepare more blocks for the wonky kites quilt (just waiting for more grey fabric to arrive) and of course make the quilt. -
The top is finished (although I still might change my mind and add some borders) but I just can't decide what to use for the back.
6. Make the red/pink/brown diamonds picnic blanket/smaller quilt with the ex-hexies from Lynz. -
This has gained an official UFO status, I'm afraid, and needs to be postponed again, at least until summer, but I still like it very much and I'm going to finish it eventually.
7. Make a baby quilt for our friends' little boy. -
done
8. Make a new quilt for my sister - this time with the fabrics she's chosen and the design we've chosen together. -
done
9. Make a quilt for my little sister's wedding (she's my cousin really, but I hope she won't mind me calling her little sister ;) -
I started yesterday and I will have to wait for some more fabric to arrive, but I hope the basic blocks for the top will be finished tomorrow. In the meantime - a rather chaotic sneak peek:
Of course some new projects appeared in the meantime, so I have to add at least:
10. Finish the wavy quilt for my friend
(update: this is what the ironing from my previous post was all about)
.
11. Make a mini quilt for:

12. Make one more quilt about which I'm not going to reveal much until it's finished - in spring most probably.
So much about sewing plans. And speaking about spring - the bulbs (now - officially - tulips) decided to start blooming.