If you remember, in May I joined: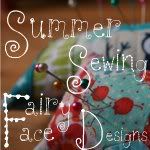 As Sarah is calling for Mid-Summer check-in, let's start with the original list:
1. Finish the Lily's Quilts QAL quilt
done, covers my sister's bed now
2. Make some more of these (i.e. wallets) for gifts
done, received, and there was much rejoicing ;)
3. Make 2 pillows with the hexie pieces from Lynz
not done - I'm actually thinking about making a picnic blanket instead, still drafting the final layout, but I do hope to be able to finish it this summer
4. Back, quilt and bind the first quilt top I pieced last December and then put aside for times I would be more confident with quilting (and for the decision what to back it with)
done, my Mum got it for her birthday and she likes it :)
5. Finish designing a quilt for these beauties:
and at least start the cutting -
not done, in the meantime the green proved to be just pefect for lining two bags (and there is still quite a lot left). I need more time to think, so it will probably become autumn/winter project.
6. I also have some plans which would involve combining quilting with my now somewhat neglected drawing, but I don't have any details for you yet -
not done, needs to wait for autumn/winter, I'm afraid.
In the meantime, new ideas and projects came up, so here is the additional part of the list:
7. Try paper piecing
done and I definitely want to make some more
8. Make a pouch for my sister
done - with pink and orange fabric, as promised ;)
9. Make chocolate, lime and orange quilt for my sister-in-law.
No photos, as I'm still waiting for the fabrics to arrive. I'm going to use Kate Conklin's
There's a Square in There
design.
10. Find or design a pattern and sew a quilt from the Australian fabrics I got from my cousin
in progress, I'm going to cut and sew the borders this week
11. Start making blocks from
Civil War Quilts
- I would like to sew them from various second-hand shirts but I still need to get them.
As usual, a big hug to all those who managed to read the whole post :)